Chicken Crumble Winter Vegetables
Posted On janvier 28, 2020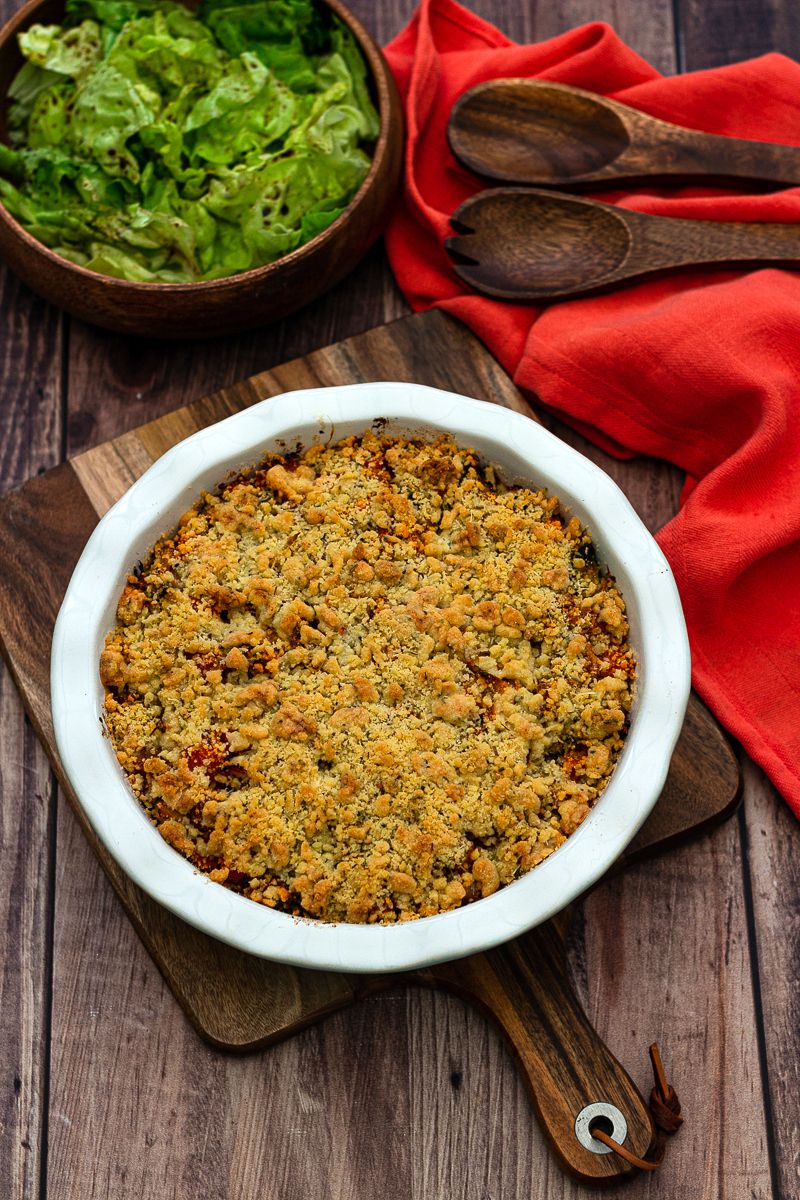 New murder on the blog! We all loved this recipe at home, to my surprise, because with Monsieur he did not win. Basically, he doesn't like pumpkin very much and here we have pumpkin, but above all … he NEVER wants to eat bulgur, and to make this crumble a complete dish I decided to put bulgur in the gratin bottom ^^
And no, I don't always consider his tastes when I prepare meals, and he was right! He loved it … to the point of taking the leftovers that were provided the next day in his lunchbox (leaving me without meals for the next day noon ah ah).
In short, all this blah, blah, to tell you that this recipe is ripping apart! Another recipe that takes our feet off eating vegetables! And this little parmesan crumble … just MIAM!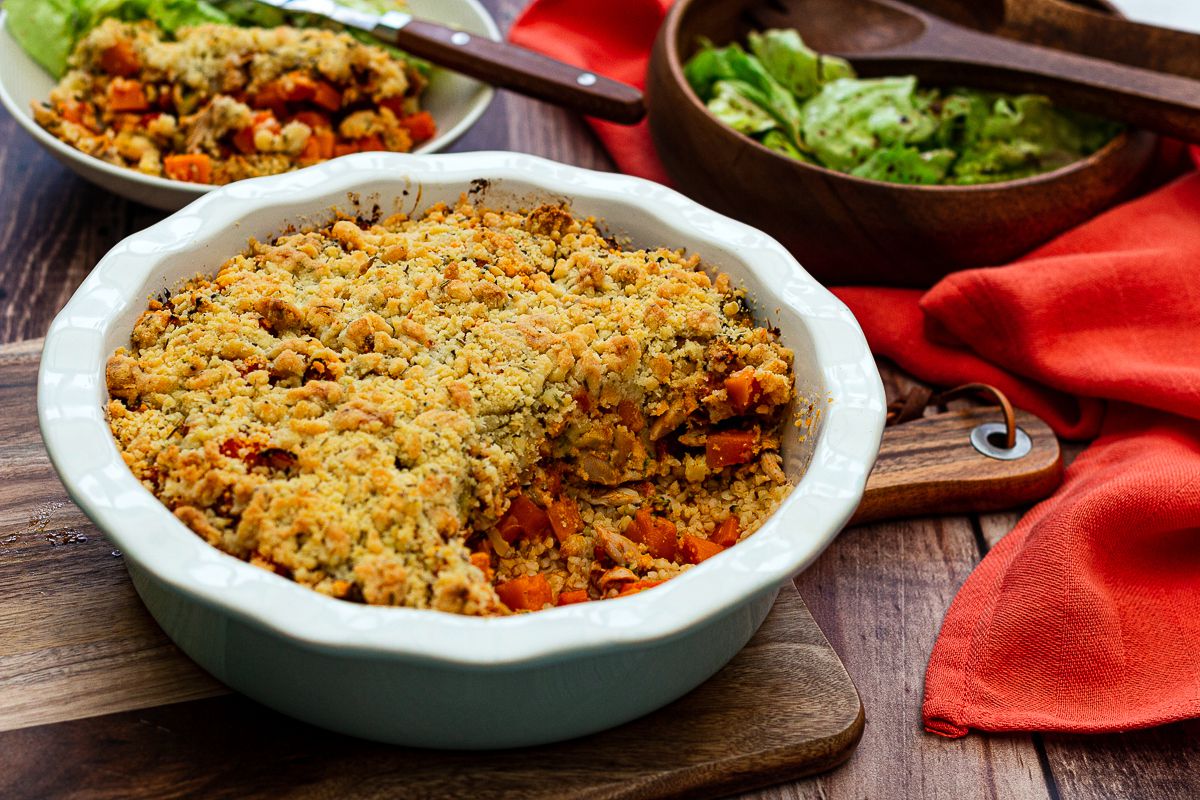 ingredients: (for 4 people)
3 chicken thighs (possible with leftover roast chicken or thinly sliced ​​chicken fillet, but it will be a little drier)

1 onion

2 carrots

½ pumpkin

½ broccoli

a can of crushed tomatoes (400 g)

120g of bulgur

80 g flour

50 g grated parmesan

50 g semi-salted butter (at room temperature)

1 teaspoon of Provencal herbs

olive oil

salt pepper
preparation:
In a cast iron pan or large saucepan, heat a drizzle of olive oil and brown the chicken thighs for five minutes on each side.

Pour a glass of water and continue cooking, covered, over low heat for 10 minutes.

In parallel, peel and chop the onion. Peel and cut carrots and squash into small cubes. Cut broccoli into small flowers.

Reserve the chicken and brown the onion for 5 minutes.

Add all vegetables, crushed tomatoes, salt and pepper. Mix and then place the chicken thighs on top.

Continue cooking covered over low heat for about twenty minutes.

In parallel, cook the bulgur according to the instructions on the package.

Meanwhile, prepare the crumble: mix the flour, parmesan and Provencal herbs. Add the soft butter cut into pieces and mix with the fingertips to obtain a sandy texture while keeping some pieces.

Remove the skin from the chicken thighs and shred the meat, mix it with the vegetables. Adjust seasoning if necessary.

Divide the bulgur into a gratin dish, add the vegetable / chicken mixture and sprinkle with crumble.

Bake 25-30 minutes at 180 ° C in a preheated oven.
Weight watchers: 11SP / pers.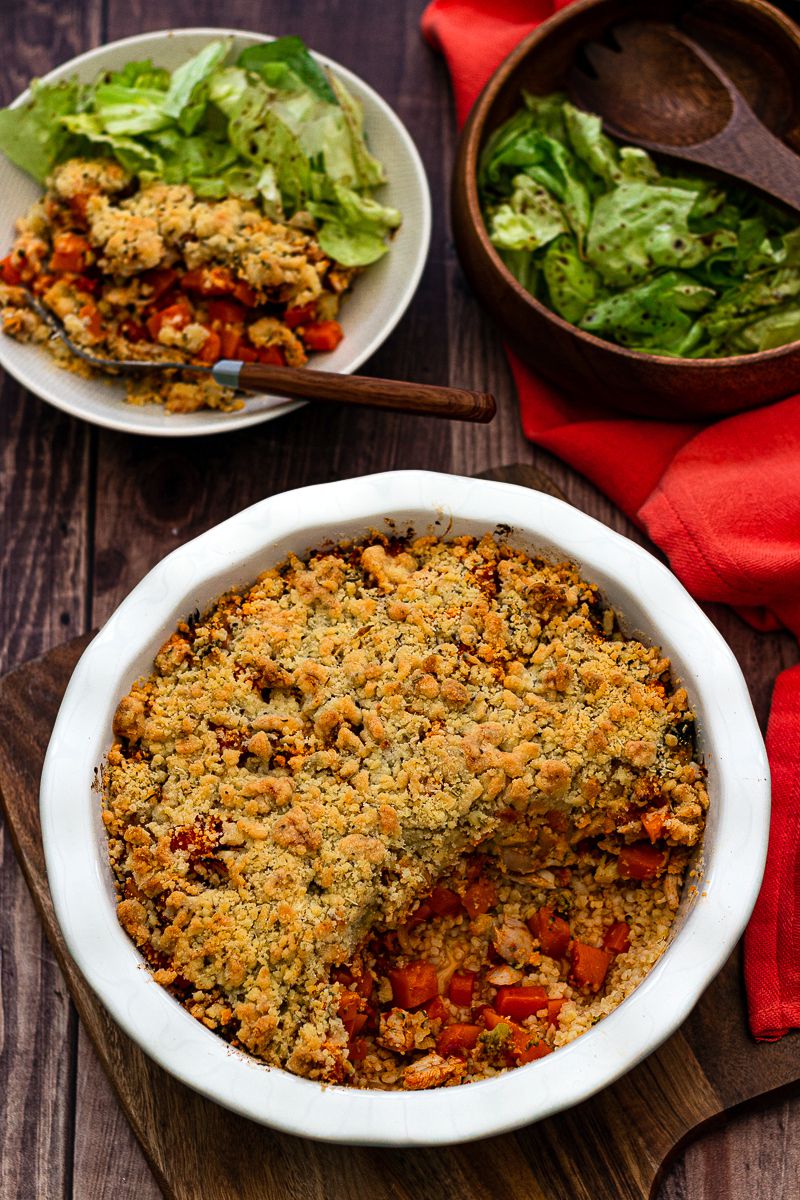 Photographs and texts not exempt from rights – Amandine Cooking ©