Decadent chocolate, hazelnut, praline and caramel vegan desserts
Posted On février 14, 2020
Well, so here I announce: with this recipe for desserts of vegan chocolate, hazelnut, praline and caramel, we are very heavy. This dessert consists of a cocoa cake base, covered with pralines, a layer of "salted butter" caramel, then some chocolate and hazelnut mousse, and covered with a rock glaze. So it's sweet huh, it's completely decadent, but I'm still convinced that it's more digestible than an omni version with dairy products and eggs.
This dessert is really delicious: we have several textures: soft, melted in the mouth, crispy, it's too good and super satisfying! After thinking about it, I tell myself that I could have made individual versions of it, I would have avoided a not always obvious cut with the rock glaze (it must be said that I did not skimp on the thickness …).
Don't be impressed by the endless list of ingredients and preparations. This recipe, like my layer cake recipes, does not imply major technical difficulties. It only takes a little time because there are several preparations to make, and some have to cool down. I advise you to make this dessert the day before for the next day or in the morning for the night, and everything will be fine, I promise!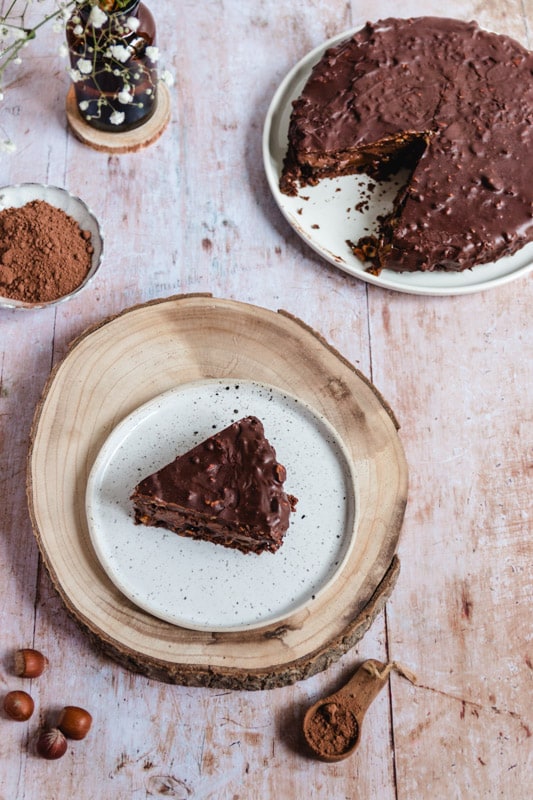 Decadent chocolate, hazelnut, praline and caramel vegan desserts
for a 22 cm diameter mold
Ingredients:
for the cake base:
100 g flour
70 g of sugar
30 g bitter cocoa powder
45 g hazelnut puree (or margarine)
125 ml of soy milk
1 teaspoon of baking powder
1 teaspoon apple cider vinegar
for the chocolates:
250 g hazelnuts and / or almonds
160 g of sugar
50 ml of water
for "salted butter" candy:
200 g of powdered sugar
20cl of soy cream
80 g margarine
1/2 teaspoon salt or salt flower
For the hazelnut chocolate mousse:
200 g silky tofu
100 g of melted chocolate
30 g hazelnut puree
20 g of powdered sugar
for rock glazing:
250 g puff pastry chocolate
60 g of praline (what will you do with the pralines)
40 g of neutral oil to taste
preparation:
I recommend that you bring a kitchen thermometer for this recipe.
We will begin by quietly doing things that will have to cool down.
The pralines: Start by making a caramel with sugar and water in a large saucepan or pan. When the caramel begins to bubble over the entire surface, it must reach a temperature of 118 ° C, and it is time to add almonds and hazelnuts. Stir well with a wooden spoon, and you will see that the sugar will become a kind of sand, it can be scary, but it is completely normal and is part of the process. Let do and continue stirring regularly. After a while, the sugar will begin to melt slowly and caramelize around the almonds and hazelnuts. Do not leave the pan and continue stirring so that all the sugar caramelizes well. It takes 10-15 minutes, I would say.
Once the caramel covers all the almonds and hazelnuts, remove the pan from the heat (with the risk that the almonds and hazelnuts burn if the cooking is prolonged too long), and spread the mixture on a sheet of parchment paper, and leave fresh.
Salted Butter Candy: put the sugar in a saucepan and let it caramelize (without water and without stirring, if so, courage!). When it starts to bubble everywhere and take a nice golden color, out of the heat, add the heated soy cream. Be careful, there may be projections (the type of projections that burn). Stir constantly. Bring to a simmer and add the margarine and the salt flower, stir and simmer for about 5 minutes, the caramel will continue to melt a little and thicken. Discard in a jar and let cool in silence. It will continue to thicken.
The cocoa cake: In a bowl, mix the soy milk and apple cider vinegar. The mixture will curdle, this is normal and even desired because it will add softness to our cake.
In a bowl, mix the flour, sugar, cocoa and yeast. Add the hazelnut puree and the milk and vinegar mixture. Mix with a whisk and pour the preparation into a greased and floured mold. Bake at 180 ° C for 15 minutes. Let it cool. You can level the cake so that it is flat by cutting off the excess with a cake or a knife.
Start putting together your dessert. Leave the cake in the mold, it will serve you. Place thick chopped pralines on the entire surface of the cake (keep 60 g of glaze). Cover with salted butter caramel.
Prepare the chocolate and hazelnut mousse by putting all the ingredients in your blender and mix until everything is well incorporated and the mixture is smooth. Pour over your dessert and smooth with a spatula.
Put your desserts in the freezer for at least 3 hours. This step is essential for your ice formation to establish well. After three hours, take your dessert out of the freezer and unmold it. Put it on a grid that you will place on a plate, a plate or a sheet of parchment paper that will be useful to recover the excess ice that will fall.
Prepare the rock icing melting the pastry chocolate with the oil and adding the finely chopped pralines. Keep in mind that your icing should not be too hot when you pour it over the dessert, 30 ° maximum, otherwise you run the risk of melting your dessert. So pour your icing on dessert. I was more than generous with the dose, if you want a thinner layer, you can smooth it with a spatula directly to the application (it freezes almost instantly!).
Then, let your desserts return to the temperature of consumption, either in the refrigerator or at room temperature, depending on the time you have before serving.