Duck soba noodles wok
Posted On février 6, 2020
Sauteed noodles are prepared throughout Asia, with different versions depending on the country or region in which they are cooked. I love for example the Bami Goreng, Sauteed Indonesian noodles, Pad Thai with shrimp or yakisoba Japanese.
The recipe that I am offering you today is certainly nothing traditional or typical of a country, but it is my recipe, made with what I had in my closet and the result was really very good.
Compared to other recipes, the sauce that I incorporate into my wok will be easier to make if you don't have an Asian grocery store nearby, just a large area with a section of world products. I love adding Mirin to my wok, but when I made this recipe it was gone.
With respect to the vegetables used for this recipe, the trio is perfect because it cooks quickly and brings different colors to the whole. And the small strips of grilled duck breast are perfect for that extra gourmet touch.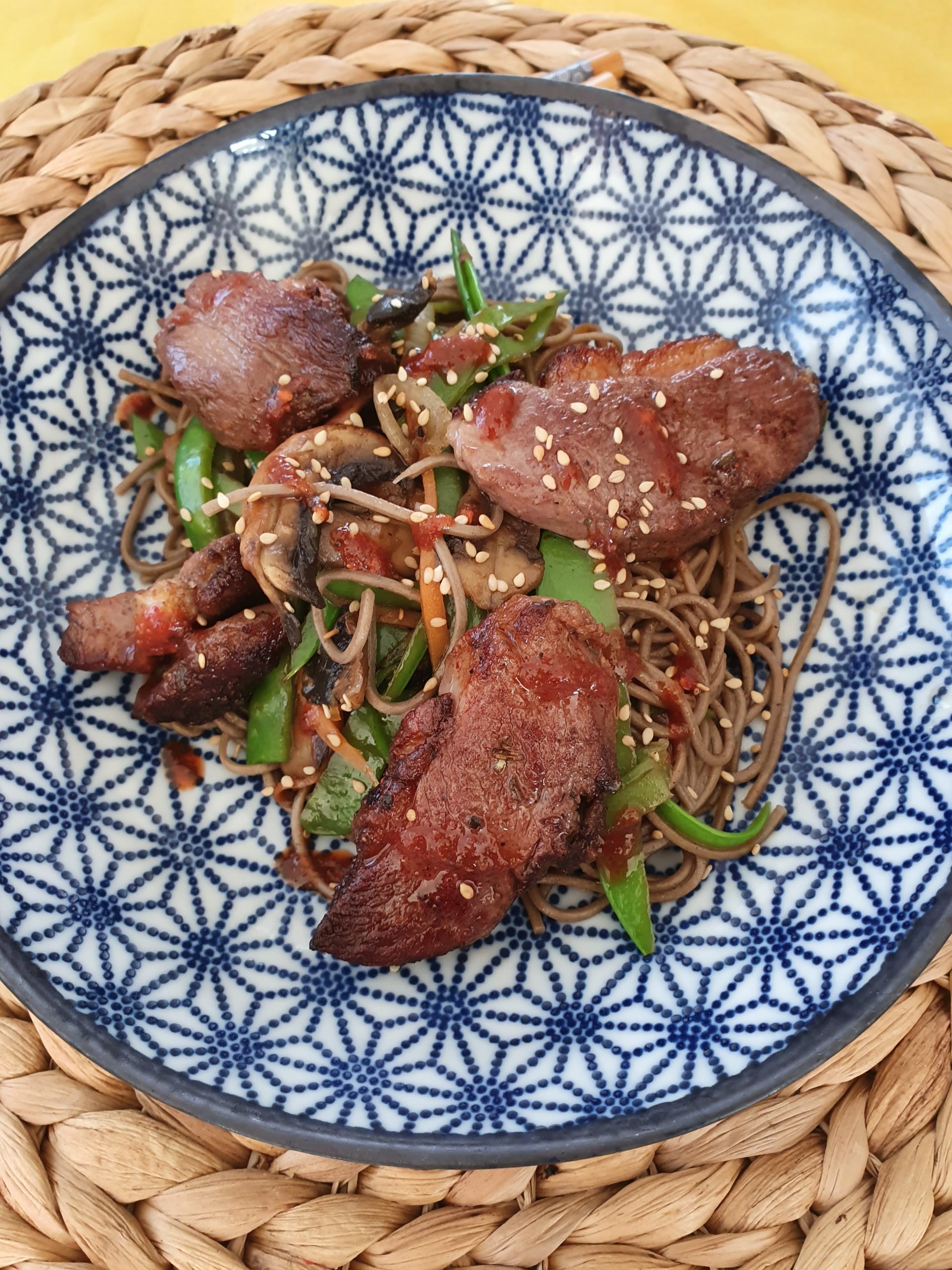 ingredients
3 packages of buckwheat soba noodles

1 duck breast

250 g of gourmet peas

4 fresh mushrooms

1 carrot

1 onion

1 clove garlic

4 tablespoons soy sauce

1 teaspoon of sugar

4 tablespoons white wine

1 piece of ginger

Hot sauce

Sesame oil

Sesame seeds

Pepper
preparation
Prepare the vegetables: rinse and chop the gourmet peas and mushrooms, peel and chop the onion, peel and cut the carrot into julienne.

Prepare the sauce: mix the soy sauce, sugar and white wine. Add grated ginger and chopped garlic, as well as some hot sauce and two tablespoons of sesame oil.

Prepare the noodles: cook them in a pan with boiling salted water for 3 minutes. Rinse with cold water and drain.

Prepare the duck: degrease the duck breast, cut it into slices and brown over high heat in the wok. Set aside on a plate.

Cooking the wok: remove the duck fat from the wok but keep a tablespoon. Sauté the vegetables over high heat for two minutes, add the noodles and the sauce. Mix everything and serve with the duck pieces.

Sprinkle with sesame seeds, a pinch of hot sauce and serve.
5.0.7
Copyright © 2019 Audrey Cuisine. All rights reserved.