Make your homemade praline paste
Posted On février 15, 2020
Well, be careful, let's go to a decadent recipe there: homemade praline paste. And I assure you that your life will not be the same after this recipe. What is the praline? They are caramelized almonds and / or finely ground hazelnuts.
You can use your homemade praline paste as a classic paste, mix it with chocolate to get a delicious homemade Nutella, or use it in all kinds of sweet recipes, such as the galette des rois recipe that will be online here. since Saturday. (yes, I'm kidding!)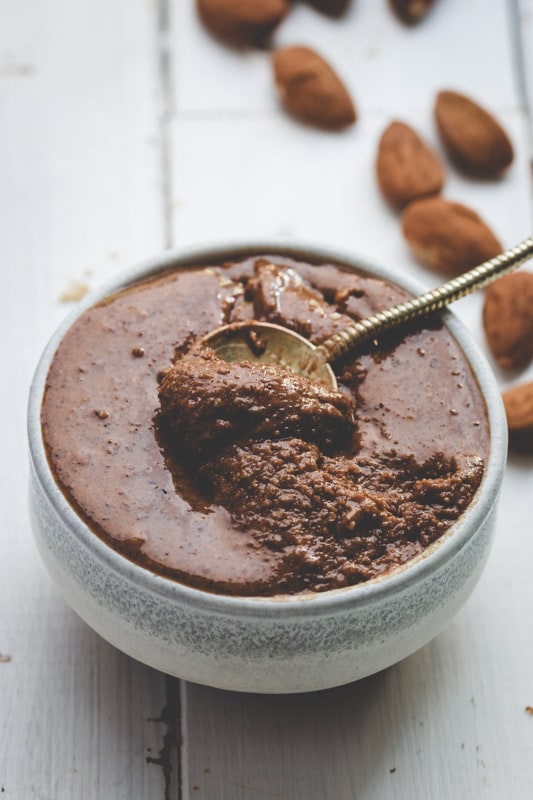 Make your homemade praline paste
Ingredients:
160 g of powdered sugar
50 ml of water
250 g of almonds or hazelnuts (or a mixture of both)
preparation:
Start by making a candy with sugar and water in a large bottom pan or a pan. When the caramel begins to bubble over the entire surface, it must reach a temperature of 118 ° C, and it is time to add almonds and hazelnuts. Stir well with a wooden spoon, and you will see that the sugar will become a kind of sand, it can be scary, but it is completely normal and is part of the process. Let do and continue stirring regularly. After a while, the sugar will begin to melt slowly and caramelize around the almonds and hazelnuts. Do not leave the pan and continue stirring so that all the sugar caramelizes well. It takes 10-15 minutes, I would say.
Once the caramel covers all the almonds and hazelnuts, remove the pan from the heat (with the risk that the almonds and hazelnuts burn if the cooking is prolonged too long), and spread the mixture on a sheet of parchment paper, and leave fresh
This is where the most difficult part of the recipe begins: don't eat the chocolates directly!
Joking aside, once cooled, break the praline dish and place the pieces in a food processor or in a blender (meat blender). Start mixing. You'll get a powder: praline! You can keep it that way if you wish, depending on the recipes you want to make next. Continue mixing, pausing to replace the preparation on the blades if it tends to escape on the robot walls. Little by little, an increasingly soft paste will form. Stop when you have the texture that suits you (personally, I like to leave some grains), and pour into a glass jar.
You can keep this preparation for several months in your closet (well, I dare you to keep it for several months!)
If you like this recipe, you can pin it on Pinterest to find it more easily.
Remember to tag me on social media if you make one of my recipes, I'd love to share your posts!