Super fluffy vegan pancakes – Lemon Rose
Posted On février 15, 2020
Get back to basics with this recipe for super fluffy vegan pancakes. There is already a vegan pancake recipe on the blog, and I know that many of you enjoy it. But there, I find that we go one step further with this recipe. These pancakes are as fluffy as the pillows! Seriously! We could take a nap!
What are the ingredients that change everything then? These are ground flax seeds which give binder and elasticity to the dough. I also use soy milk for this recipe that I mix with apple cider vinegar to make buttermilk which has the peculiarity of providing softness to the preparations. Therefore, the two conjugates transport us to the realm of super fluffy vegan pancakes. Therefore, I advise you not to substitute soy milk for another one for this recipe.
I served these pancakes with homemade praline, but I also love them with maple syrup!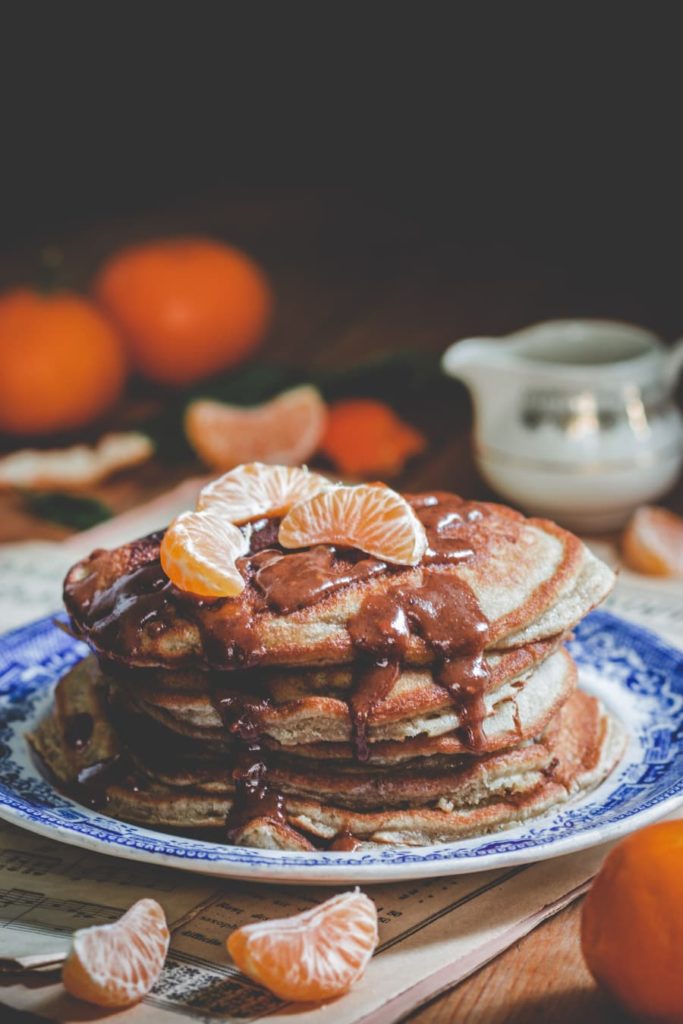 Super fluffy vegan pancakes
8 to 10 pancakes
Ingredients:
190g flour

a pinch of salt

3 teaspoons baking powder (11 g)

2 teaspoons apple cider vinegar

25 g of powdered sugar

350 ml of soy milk

a tablespoon of ground flax seeds

30 ml rapeseed or sunflower oil


½ teaspoon of vanilla liquid or powder
preparation:
In a bowl, sift and mix the flour, baking powder, salt and sugar.
In a bowl, combine the milk, vinegar and ground flax seeds. The mixture will thicken and become foamy.
Pour this mixture into the salad bowl, add the vanilla and oil. Mix to combine all the ingredients without whipping the dough too much, that's the secret of successful pancakes!
Heat a pancake and brush with oil. Bake the pancake and turn it over when its surface is covered with bubbles. Cook the other side for a few minutes until golden brown.
If you like this recipe, you can pin it on Pinterest to find it more easily.
Remember to tag me on social media if you make one of my recipes, I'd love to share your posts!